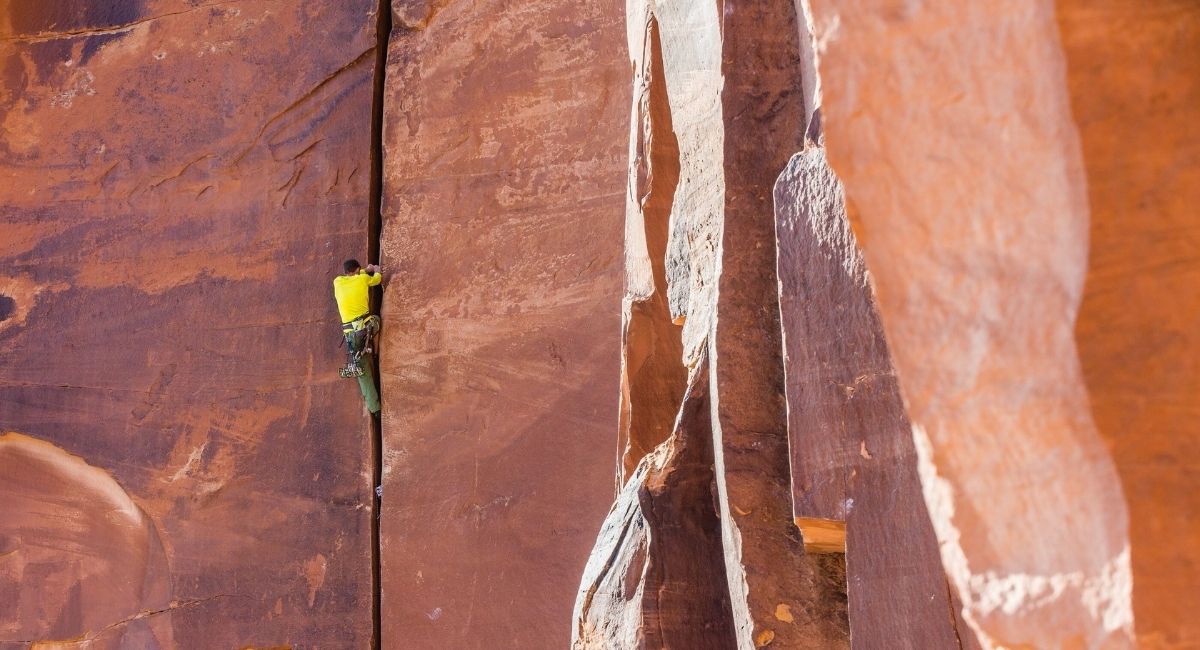 In the history of climbing, Patagonia undeniably occupies a leading position. And for good reason, since 1970, the Chouinard Equipment brand was the largest supplier of climbing gear in the United States. But the company did not just provide equipment, it thus imposed an art of climbing, a real way of understanding climbing: Clean Climbing. More in the trend than ever, this approach is now being brought back to the forefront by the Californian brand. We explain why
Clean Climbing as a return to the roots of the Patagonia brand
If you follow the world of climbing, this term is surely familiar to you. Clean Climbing, Patagonia's latest campaign, was also paradoxically its first. This return to basics, 50 years later, is a necessity for the famous Californian brand. And for good reason, when the climate emergency is at the heart of all debates, the preservation of our playground is more than ever a priority. After all these years, Patagonia feels it's time to refresh our memories.
To understand the foundations of this campaign, take a quick trip back to the 1970s. While Yvon Chouinard, founder of the Patagonia brand, was selling climbing carabiners and pitons with all his might, he realized that his equipment was damaging the cliff, and multi-pitch routes that he enjoys so much. Worse still, the damage caused was irreversible. At the same time, it's normal: the pitons are driven into the rock with great hammer blows. Inevitably, it leaves some traces.
Yvon Chouinard therefore took his first step in favour of the environment: to stop making pitons. This decision is far from insignificant for his company, because at that time, the sale of pitons represents 70% of his income... To justify his decision, he accompanied his action with a note on the first page of the Chouinard Equipment catalog of 1972. This 14-page note encourages climbers to stop using pitons and switch to removable protections that are not harmful to natural sites, such as jammers. With these 14 pages of explanations, the Clean Climbing manifesto was born, the foundations of Patagonia were laid.
Through this decision, Yvon Chouinard calls for a new style of climbing. A style in favour of moderation in order to protect the rock. For him, using brute force, pegs and hammers to climb at all costs makes no sense. He argues that style matters more than success, and that if the climber's knowledge doesn't get him to the top, the gear won't. The objective is of course more ambitious than simply replacing pitons, the objective is to encourage a climbing ethic, a new way of progressing and respecting one's playground.
50 years after the publishing of this note, the issue is still as meaningful as ever. Even though climbing is cleaner today than it was back then, it's hard to say that climbers have no impact on their environment. Traces of magnesia and chalk adorn the popular routes, branches and trees are often cleared for better climbing, crashpads crush everything in their path, areas are trampled on...
If climbing were so clean, as the brand rightly reminds us, there would be no mandatory site cleanup day at every climbing event, there would be no need to remove hundreds of pounds of trash and abandoned climbing gear every year at the Yosemite Facelift . And as this concerns all of us, we took advantage of Earth Day to perfect our education in this area. The opportunity to remind ourselves of the impact of our outdoor activities on our ecosystems and biodiversity.
The 50th anniversary of this note and of Clean Climbing is an opportunity for us to look back on the history of the brand, its founder Yvon Chouinard and his commitments.
The start of the story or how a story of falcons forges a future
From the trunk of his car to Chouinard Equipment, to finally end up in Patagonia, Yvon Chouinard has made some road. So there's nothing like a little look back at the history of this revolutionary outdoor brand and its founder, a precursor of his time.
The climbing virus
In 1953, when he was only 14 years old, nothing predestined this young man to create one of the biggest brands in the outdoor industry. And for good reason, all that interested young Yvon was nature and more particularly falcons. As a member of the "Falconry Club of Southern California", he was also introduced to climbing : abseiling was the only way to observe birds of prey a little closer. He then caught the climbing virus, which has never left him since. Very quickly, the local mountains were no longer enough, and the small group aimed for the Big Walls of Yosemite.
Faced with the rapid wear and tear of the equipment (at the time, pitons were single-use), Yvon Chouinard decided to make his own pitons, which he wanted to be reusable. He buyed an old forge and worked on a reaper blade to produce his first parts. The result was satisfactory, and his friends placed some order: he goes into business without even wanting to. His car then served as his shop and workshop, and he took the opportunity to travel the coast, surf and climb.
From the first pitons to Chouinard Equipment
The growing demand for pitons and carabiners compelled Yvon Chouinard to join forces with Tom Frost, friend climber and engineer. The duo then strives to improve the products again and again, to industrialize the manufacturing, and to remain intransigent on the quality of the equipment. The reason is quite simple: if one of these products breaks, the risk can be fatal.
Climbing tools must always be more robust, simpler and more functional. Their motto is that of Antoine de Saint-Exupéry: "Perfection is achieved, not when there is nothing more to add, but when there is nothing more to take away". In 1970, just 5 years later, Chouinard Equipment is the largest supplier of climbing equipment in the United States. But also, we repeat, a great danger to his own playground.
Back to 1972 and the brand awareness. Even if the new products are selling well, the activity is struggling to take off. Yvon Chouinard, who has mastered the MBA (Management By Absence) to perfection, spends most of the year travelling to climb, surf and glean new ideas. This is how he brought back from Ireland a rugby jersey that is particularly practical for climbing: in addition to being robust and water-repellent, its high collar prevents the material from cutting into his neck. In no time, the two associates, embarked on the creation of a sportswear brand. We have to find a name. It will be Patagonia, a distant, unknown country, which makes you dream.
Patagonia, a company ahead of its time
From the start, Yvon Chouinard and his friends made strong resolutions to create a company that corresponded to their vision. To do this, they are based on a few principles: Think before acting - Sweep in front of your door - Commit - Set an example - Repair. Principles that made Patagonia a company well ahead of its time, and especially at that time.
A free and benevolent working environment
Yvon Chouinard is, whatever he may say, an entrepreneur, but an entrepreneur in his own way. He who wants to continue climbing and surfing wants the same atmosphere within his company. The working environment is free, benevolence and trust reign. Patagonia's policy, based on the original values of its founder, is akin to a CSR approach before its time. Yvon, always ahead of his time, is aware that Open Space can create distractions, but he knows that they promote communication. In 1984, a cafeteria serving mainly healthy and organic food was created. At the request of his wife, Malinda, a company nursery is opened. The atmosphere is much more family than corporate and the well-being of employees is at the heart of the company.
A desire to reduce its impact
As he travels, Yvon Chouinard becomes aware of the ravages of pollution and growth at all costs. As a man of action, he began by sweeping in front of his door, and the 1984 catalogue was printed on recycled paper. Early results aren't very clean - ink smudges, photos are blurry and colours wash out - but it saves some 3.5 million kW, 22 million litres of water and 23 tons of pollutants. The game is worth the candle.
Little by little, the American company seeks to reduce its carbon footprint and its environmental impact in absolutely everything it does. Recycled materials are more common, lighting reduced, solar panels installed. To go further, the brand asks an independent organization to measure the environmental impact of its 4 main fabrics. To his great surprise, Yvon Chouinard discovers that the worst of all is cotton. In no time, the company makes the decision to use only organic cotton within two years. The challenge is daunting, but met: since 1996, every Patagonia garment made of cotton has been organic.
Our selection of products from the Clean Climbing range:
Reducing your impact also means reducing your consumption, and Yvon Chouinard is fully aware of this. He who advocates responsible consumption based on necessity (and not on desire) then offers alternatives. The Worn Wear program was launched in 2012 and prompted Patagonia to create the largest clothing repair center in North America. At the same time, a repair truck travels the roads of the country and Europe to repair clothes free of charge, Patagonia or not.
In 2011, the Californian brand caused a stir by publicly encouraging people to stop unnecessary purchases. How ? By offering himself, in the middle of Black Friday, the front page of the New York Times in order to display the now famous "Don't buy this jacket". A text explains why consumers must give up this purchase, including the resources necessary for the production of said jacket - enough water to meet the daily needs of 45 people, among others -. The company then proposes a commitment to consumers: Reduce, Repair, Reuse, Recycle.
Strong commitments on all fronts
Of course, Yvon Chouinard and Patagonia are not only focused on the impact of the company, but saw beyond. Their social, environmental and political concerns are strong and committed.
Unprecedented political commitments
Protecting the environment is one of the absolute priorities of the Patagonia brand, as its slogan "We're on business to save the world" reminds us. And if that means getting involved in politics, the brand is not afraid.
Always committed to the protection of National Parks and Monuments, for example, it did not hesitate to sue the former President of the United States, Donald Trump. For the record, this one had, in 2020, removed the status of National Monument from the Bears Gears park, thus removing any protection against mining and oil exploitation. Very quickly, the brand entered the discussions. Prosecuting a president was then an unprecedented action in the United States, but the brand was not at its first attempt in major acts.
In 2017, it had not hesitated to spend $ 700,000 in media purchases to make a television commercial in Montana, it who had never done one before. The goal ? To recall his words to the Secretary of the Interior of the United States, who threatened the expanses of common land (called "Public Lands"), and who had nevertheless stated some time earlier: "Our greatest treasure is the Public Lands"...
Last punch to date, the brand just sewed on the labels of some of her products, the little slogan "Vote the assholes out". According to Tessa Byars, the company's spokesperson, "this is for all politicians, regardless of party, who deny or minimize the climate crisis and ignore science, not that they ignore it, but because their pockets are full of oil and gas money". A strong message, which contributes to the success of the brand, which reinforces its reputation and its credibility. A message, among many others, which makes its customers activists and promoters.
Defending the environment, the company's leitmotiv
At Patagonia, everything is thought out and considered to preserve nature. First at home, as we have seen, but also by supporting other collectives, and this from the very beginning. While still small, the company began to devote time and money to the ecological crisis, including global warming, the cutting and burning of tropical forests, the rapid loss of groundwater and surface layer of the soil, on acid rain, the devastation of rivers and creeks…
The first battle started by Patagonia goes back to 1970, when Yvon Chouinard and his friends went to support an expert fighting against a pipe project at the town hall. The expert, a young biology student, demonstrates to the brand that battles on the ground can make a difference, especially when led by local initiatives. Since then, Patagonia chooses to make regular donations to small groups working to save or restore local habitats rather than giving to huge NGOs. In 1986, the brand took another step forward in protecting the environment by agreeing to donate 10% of its profits to these small groups every year. This share then increases to 1% of the company's turnover. This is what will lead to the famous 1% for the Planet, created in 2002. Since then, no less than 175 million dollars have been donated.
«For us, it's not about being charitable or philanthropic, but simply covering the cost of our activity. It's like paying a tax to the planet»
Yvon Chouinard, Founder of Patagonia
In parallel with these local actions, the brand leads major national environmental campaigns. The first took place in 1988 and aimed to de-urbanize the Yosemite Valley. Since then, a major awareness campaign on an environmental problem has been carried out every year. The brand positioned itself early against globalization, when it is synonymous with compromise on the environment and labour rights. She advocates for the destruction of dams when they put fish life at risk, she supports projects that seek to preserve ecosystems as a whole, and, 50 years later, she reminds her community that clean climbing is possible, and even fundamental.
From reusable climbing pitons, to fighting the Trump administration, to founding 1% for the Planet, Patagonia has done everything to make the environment protection its goal. A battle in which the brand involved Hardloop, recently during a day under the theme of preserving nature, but also on a daily basis, by offering collections that respect the environment. Because at Hardloop, we are aware of but also responsible for the great disruption. Because the transition to another model can't wait any longer, Patagonia sets an example and asks us, in turn, to get involved. To commit to trying.
If you have any questions about Patagonia and its products, do not hesitate to contact our HardGuides directly by phone on the +33 (0) 1 84 67 14 24 ( free calls ) or by sending a message to our Help Center. They will be happy to help you and answer your questions!
Crédits : pour ©Patagonia : Andrew Burr, Tim Davies, Lauren Ross, Jeff Jonhson