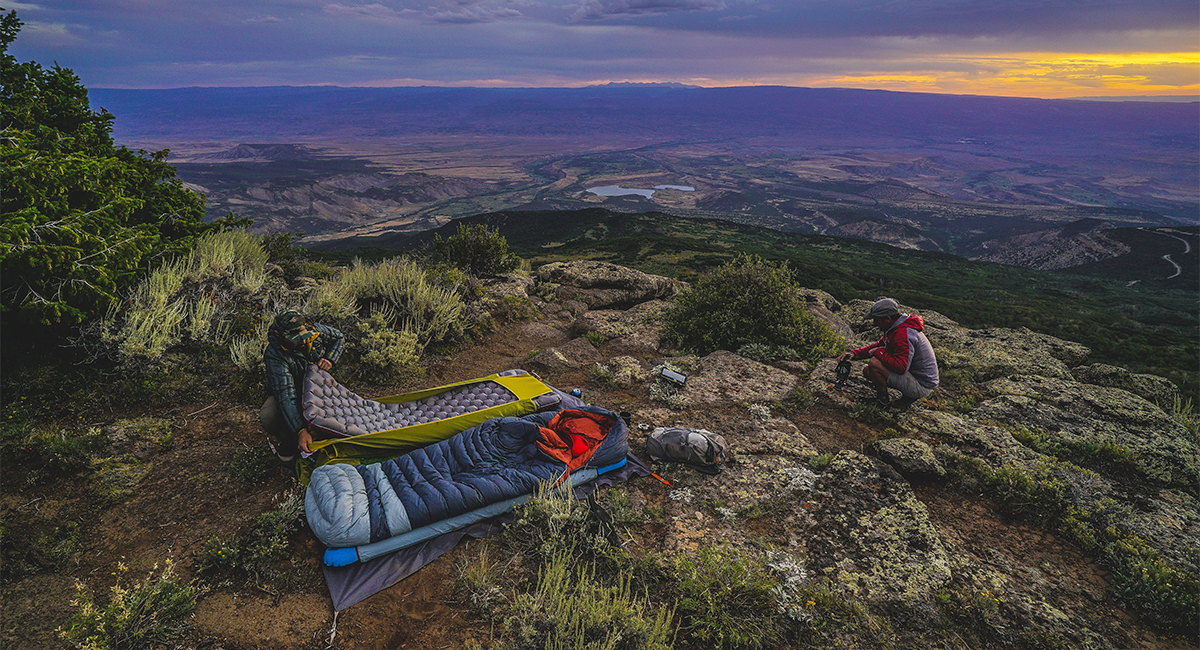 If you ever had to put on layers of clothing after layers to avoid getting cold in your sleeping bag, or to move in all directions to find a more suitable position, the rest of this article should help you. For many people, the sleeping bag is not a very important choice, yet you will spend almost a third of your time there, almost as much time as in your shoes! Countless factors can affect your sleep and hamper your recovery, such as humidity, temperature, altitude, or even hunger. A suitable sleeping bag will obviously not solve them all, but will at least protect you from cold and humidity, a very good start! Down, synthetic, mummy or rectangular, comfort temperatures…: how to choose your sleeping bag? We will explain everything to you!
Choosing the right sleeping bag: the filling
It must be well understood that the sleeping bag that meets the needs of all hikers does not exist. Among the multitude of products on offer, they all meet different but very specific needs. Among all the criteria to take into account when choosing a sleeping bag, the filling, that is to say the material contained inside your sleeping bag guaranteeing the supply of heat, is the most important criterion. The filling of a sleeping bag can be natural down (white goose, gray goose, duck...) or synthetic material (Primaloft®, Polarguard, Thermolite®...), and some may even contain wool . The different types of packing each have their advantages and disadvantages. Depending on the adventure you are preparing and especially the environment in which you will evolve (high altitude, humid countries, camping by the sea, etc.), the filling is significant, and we will explain why!
Natural down sleeping bag: the best insulation / weight ratio
Let's start, first, with the filling in natural down. You will find three types of natural down on the market: white goose, gray goose or duck. Whatever one may say, these three types of down offer identical and efficient thermal insulation. Although in recent years, there have been great improvements in synthetic fibre sleeping bags, of all the sleeping bags on the market, a natural down sleeping bag is still lighter, compressible, and warmer. The only downside to a natural down sleeping bag is its sensitivity to moisture. If you go to very humid countries or if you sleep under the stars, avoid natural down, because the feathers will stick together and lose their swelling power.
To come back to the inflating power, this famous "Fill power" in English, it is about the ability of feathers and down to trap air and therefore to keep warm. When choosing your sleeping bag, it is therefore very important to look at the fill power, which is measured in Cuin (cubic inches). To measure it, in the laboratory, an ounce of down is placed in a test tube and then a weight is applied to the down. When this weight is removed, the down swells: the volume taken up by this ounce of down is then measured to determine the cuin. You will then find sleeping bags with cuin of 500, 600, 700, 800… The higher the cuin, the higher the quality of the down and the insulation capacity of your sleeping bag will be.
Another selection criterion if you opt for a natural down sleeping bag: the proportion of down / feathers present in the padding of your sleeping bag. Make sure that there is always the presence of feathers in the filling because they ensure the cohesion of the whole. Different combinations are then possible. You will find sleeping bags with 90% down / 10% feather padding, the lightest and warmest combination. You will also find the 80% down / 20% feather combination and the 70% down / 30% feather combination.
Natural down sleeping bag: advantages
When the down is of good quality (at least 80/20 as we have seen before), it simply offers better thermal insulation than synthetic materials, perfect if you are looking for a sleeping bag for icy sleeping conditions;
Down filling, whether white goose, gray goose or duck down, is lighter than synthetic materials and will therefore be more suitable if you have to carry it on your back;
The lifespan of the down sleeping bag is longer because it retains its swelling power (or fill power) longer than synthetic materials;
Another advantage of down, having better swelling power than synthetic materials, this type of filling will be more compressible and will take up less space when it is folded up in its bag or net. It will be more convenient to carry in your backpack or attach to the outside of it
Because feathers are lighter and the loft is better, the sleeping bag with down filling is also more comfortable.
Natural down sleeping bag: disadvantages
However, the down sleeping bag does not only have advantages, certain disadvantages will certainly make you opt for synthetic materials:
The first disadvantage of the sleeping bag with a down filling, even of good quality , is that it is hydrophilic. The fact that it easily attracts and absorbs water means that it is not recommended for hiking or trekking in very humid areas, unless you have additional protection against humidity. This problem can also be mitigated with water-repellent textile layers to protect the down, but it is nonetheless real;
Another major drawback is the maintenance required: beyond the recommended 30° wash and the use of a mild detergent, you will also have to check that there are no hitches in your washing machine so as not to not damage the bag. But drying is what takes the most time since you will have to undo the packets of damp down at regular intervals to prevent it from remaining in one place. Drying is long: it can last more than 24 hours for some duvets;
Last disadvantage of the down sleeping bag: the price, which is often much higher than bags made of synthetic materials.
Advantages

Disadvantages


Better thermal insulation
Lighter
Longer lifespan
Better inflating power
More comfortable

Sensitive to humidity and therefore less efficient when wet
Delicate maintenance and cleaning
Drying of the bag for a long time (24h)
Often higher price
Sleeping bag in synthetic materials: resistance to humidity
We speak of a synthetic sleeping bag when the filling is not natural down but an artificial fibre that imitates its behavior. There are a multitude of them depending on the brands and manufacturers, but we can discern 3 main ones:
The hollow fibre: in the shape of a pipe, which improves the insulation
The plain fibre: in the shape of a wire, it provides better resistance and increases the durability
The spiral fibre for increased comfort.
These three types of synthetic fibres each have their strengths. If you are looking for a durable and resistant sleeping bag, go for a solid fibre, but if your priority is insulation, a hollow fibre will be more effective.
Synthetic fibre sleeping bag: advantages
The main advantage of the synthetic material sleeping bag is that it is hydrophobic. Unlike down filling, the synthetic fibre absorbs little water. It will therefore be more suitable for outings in regions where you will need to be protected from humidity;
Another advantage is its ease of maintenance and its drying speed: you can put it in the washing machine without any worries, and it will dry in a few hours;
The price is often a strong point of the synthetic sleeping bag, although we are starting to see very efficient models appearing whose price reaches that of bags with a down filling.
Synthetic fiber sleeping bag: disadvantages
Synthetic technologies have not yet managed to match the thermal insulation power of natural down. In the future, this fibre will surely exist, but today natural down remains ahead when it comes to keeping you warm in dry weather;
Synthetic materials are less compressible than natural down, so the sleeping bag will take up more space in or on your bag when it needs to be transported;
A sleeping bag made of synthetic materials will remain heavier than those with natural down filling;
The filling power of synthetic sleeping bags is also lower, so its lifespan will be shorter.
Advantages

Disadvantages


Resistant to humidity (hydrophobic)
Ease of maintenance
Quick drying in a few hours
Often less expensive

Slightly less warm
Less compressible
Weight
Lifespan
Less comfortable
A new filling: wool in a sleeping bag
Beyond the simple choice between a natural down and a synthetic fibre, some manufacturers are now turning to wool for the design of their sleeping bags. The latter are not filled exclusively with 100% wool, but can constitute 30% of the composition, mixed with natural down.
Advantages of wool in a sleeping bag
Wool has many advantages, and its use in the composition of a sleeping bag takes on its full meaning:
It stores heat very well
It isn't subject to humidity
It naturally regulates sweat
It is easy to maintain
It is more biodegradable
Disadvantages of wool in a sleeping bag
Like all other materials or fibres used, it nevertheless has disadvantages:
It is heavier than down and synthetic fibres;
It can be a source of allergies in some people.
Choose your sleeping bag according to the outside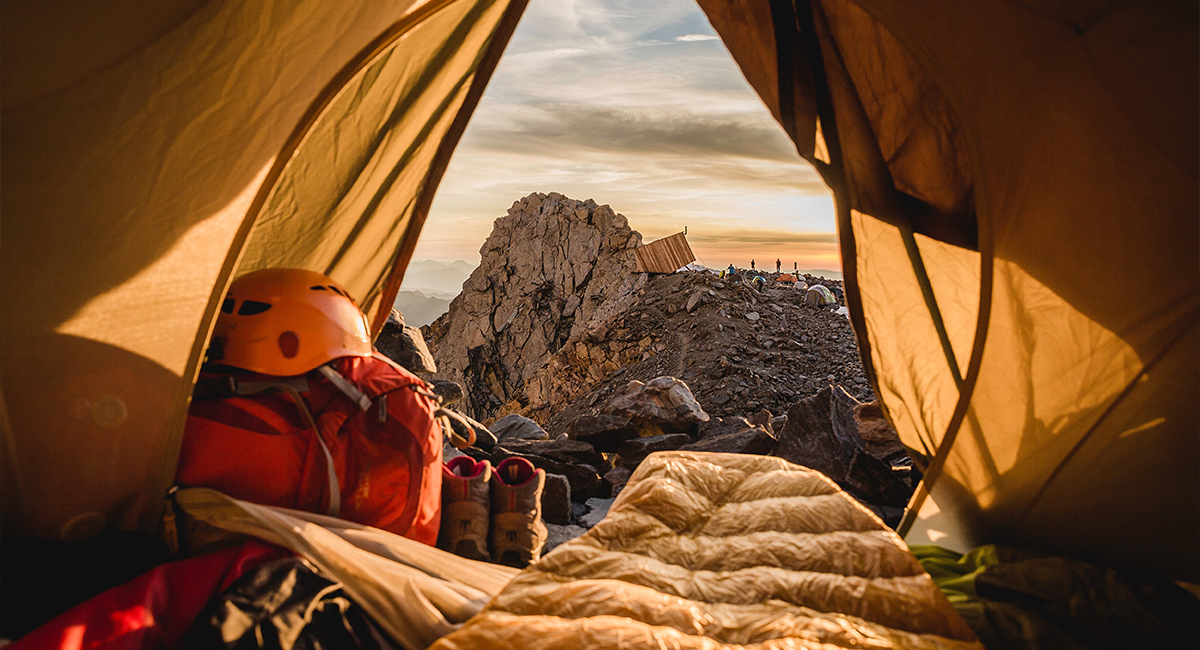 Comfort temperature, limit temperature and extreme temperature: explanations
The outside temperature is decisive in the choice of your sleeping bag. Indeed, you will not face the same temperatures if you have to sleep in a hiking tent in the middle of summer in the south of Corsica or if you have to go to Norway in the middle of winter. Surely you have already heard of comfort temperature, limit temperature and extreme temperature but … What does this mean?
To define the temperatures under which you can use this or that sleeping bag, manufacturers must follow a European standard and use precise names, which are not always easy to decipher. Here is a quick overview of this standard and the terms used on sleeping bag labels.
European Standard EN 13573
Its main objective is to harmonize the characteristics of sleeping bags at European level so that it is easier to understand the temperatures at which they can be used. The priority is safety, to avoid misunderstandings about the temperature of use. For this, 3 reference temperatures have been created: the comfort temperature, the limit temperature and the extreme temperature.
Comfort
The first temperature listed when choosing your sleeping bag is the comfort temperature. It corresponds to the temperature at which one can sleep in a "relaxed" position (typically on the back, arms alongside the body), at thermal equilibrium. This is the temperature at which you are sure not to be cold.
Limit
The limit temperature corresponds to the temperature at which, in a relaxed position on your back, you will feel the effects of the cold. At this temperature, your sleep will be disturbed, without endangering your life.
Extreme
The extreme temperature indicates the temperature at which your life will be in danger because the risk of hypothermia will be far too great. It is strongly advised not to use this temperature. It is your responsibility to find out beforehand about the conditions you will find yourself in and the temperature variations you will face to ensure that your sleeping bag is suitable for your needs.
This feeling of coldness is, of course, personal. If you tend to be chilly in everyday life, do not hesitate to opt for a sleeping bag with a lower comfort temperature than expected (a 0°C sleeping bag if you are facing temperatures of 5° C for example). There are also differences between men and women. Men are generally less sensitive to the cold than women, so gender should be taken into account when choosing comfort temperatures. Some manufacturers indicate different comfort temperatures depending on the gender, remember to find out!
Sleeping bag 1, 2, 3, 4 seasons: what does that mean?
Another name used by manufacturer are sleeping bags for 2 seasons, 3 seasons, 4 seasons... This name does not define any temperature or specific conditions of use. It is a simple indicator to give an idea of the time of year and the region of the globe in which you can use it. A 2-season sleeping bag is a lightweight sleeping bag that can be used from mid-spring to mid-autumn, in a temperate climate. A 4-season sleeping bag is an freezing temperatures sleeping bag that can be used in winter, but it is also suitable for expeditions to the poles.


Choosing your sleeping bag according to your needs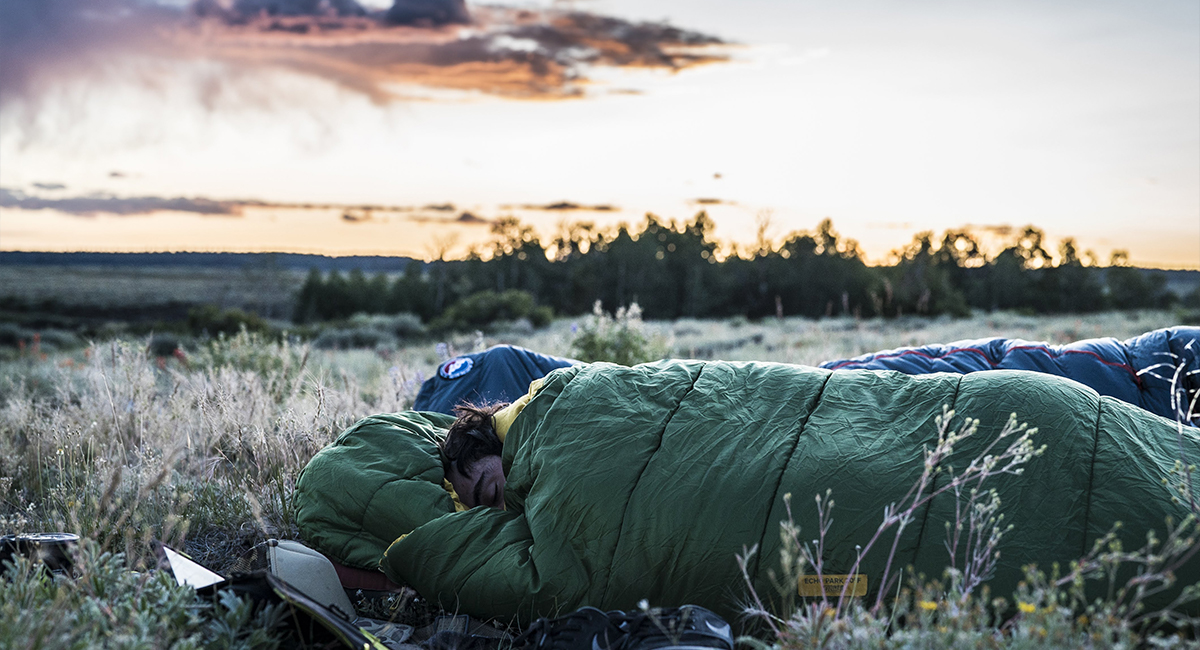 The sleeping bag that meets all your needs does not exist, but the one that meets your needs specifically does exist. To find this bag, you must precisely determine your needs upstream and establish a hierarchy of what you expect from the sleeping bag. Define among criteria such as weight, volume, shape or price, which will be the most decisive for the smooth running of your adventure.
Packed volume: choose your sleeping bag according to the space you have to carry
Once folded up in its cover or net, a sleeping bag takes up space. Some models are very bulky and may get in your way, especially if you don't have the right equipment to transport it. Depending on the adventure you are planning, the volume your sleeping bag holds is a determining factor. If you are used to travelling by car or on vacation for a camping trip, for example, there is no need to equip yourself with a super compact sleeping bag. On the other hand, if you plan to carry out the GR20, you will absolutely need a very compressible sleeping bag, which will take up as little space as possible inside your backpack.
Weight: a determining criterion for a long trek
Le poids peut également être un critère déterminant pour la réussite de votre aventure. Si vous réalisez une grande randonnée sur plus de deux jours en autonomie avec portage de votre sac à dos de randonnée, mieux vaut privilégier un sac de couchage ultra light. Sur la distance, chaque gramme compte! Le poids joue, en effet, un rôle dans votre équilibre. A l'inverse, si vous partez pour moins de deux jours, le poids de votre sac de couchage n'est pas un critère trop déterminant.
Weight can also be a determining criterion for the success of your adventure. If you are hiking for more than two days on your own with your hiking backpack, it is better to choose an ultra-light sleeping bag. Over the distance, every gram counts! Weight plays a role in your balance. Conversely, if you leave for less than two days, the weight of your sleeping bag is not too decisive a criterion.
Shape: mummy, rectangular, quilt, what shape of sleeping bag should you choose?
Mummy, rectangular, blanket, quilt: there are different shapes of sleeping bags that also play an important role in thermal insulation. Each has advantages and disadvantages, so it's up to you to choose the form that will best suit your adventure.
The rectangular sleeping bag: ideal for camping
The rectangular shape remains the most classic shape of sleeping bags. Very comfortable, because you don't have that feeling of tightness in your feet, the rectangular sleeping bag is suitable for nights camping and for leisure use. This shape is not recommended if you are undertaking a long hike, because the right angle corners at the level of the feet are synonymous with cold spots, unnecessary bulk and superficial weight.
The mummy / sarcophagus sleeping bag: the choice of thermal optimization
The "sarcophagus" sleeping bag, also called "mummy", is more suitable for nights in a bivouac, during a long hike. It is tighter at your feet, eliminating cold spots in the corners and unnecessary bulk, but it also has the advantage of being equipped with a hood to keep your head warm. Perfectly matching the shape of your body, the mummy sleeping bag allows you to insulate yourself much better from the cold throughout the night.
The "quilt" sleeping bag and the "elephant's foot": hunting grams
These two types of sleeping bag do not rise above the chest. By removing the upper part of the bag, you remove a good third of the volume and weight, for an ultra-light and less bulky sleeping bag. To avoid getting cold, you will have to keep your jacket on to keep the heat in. This type of sleeping bag requires a very good knowledge of the mountains and experience in outdoor adventures.
Price: the very down to earth criterion
Dernier critère important dans la sélection de votre sac de couchage : le prix. Selon vos besoins, il est inutile d'opter pour le sac de couchage le plus cher de la gamme. Prenez donc le temps de réfléchir à l'utilisation que vous allez faire de votre sac de couchage, cela vous orientera définitivement vers une fourchette de prix adéquate. Retenez néanmoins que pour des performances similaires, un sac de couchage en fibres synthétiques sera très souvent moins cher qu'un sac de couchage en duvet.
Last important criterion in the selection of your sleeping bag: the price. Depending on your needs, there is no need to opt for the most expensive sleeping bag in the range. Take the time to think about the use you will make of your sleeping bag, this will definitely guide you towards an adequate price range. Remember, however, that for similar performance, a synthetic fibre sleeping bag will very often be less expensive than a down sleeping bag.
Tips and bonuses for a successful experience from start to finish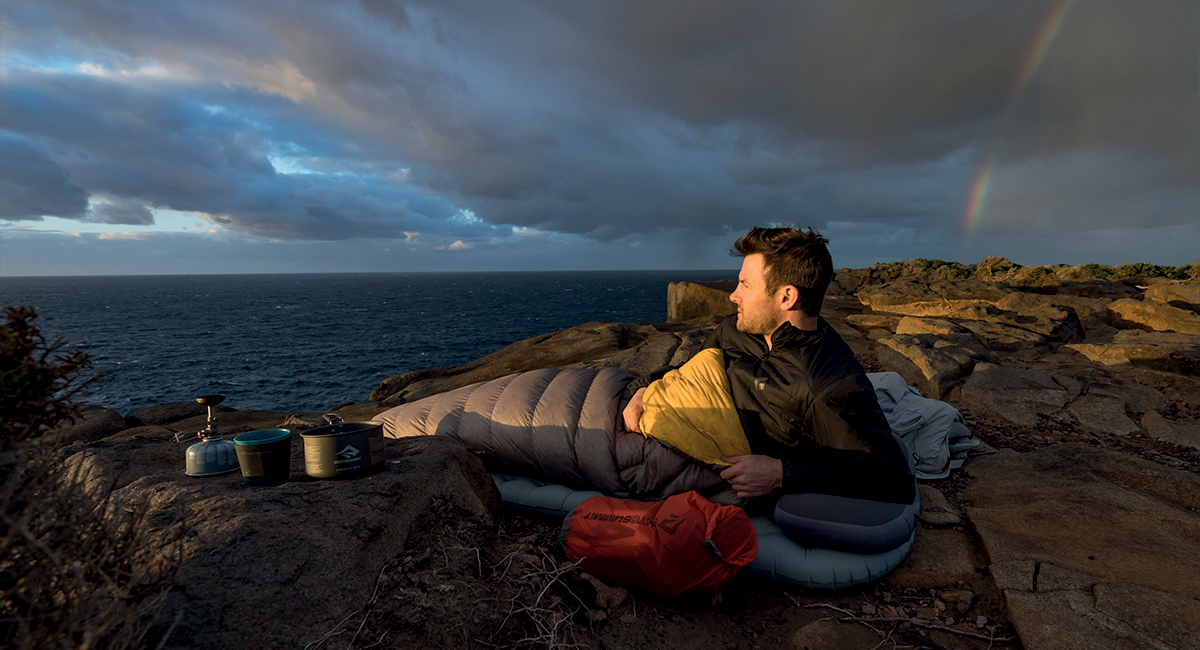 The sleeping bag you choose won't do everything. Even with a high-performance and suitable bag, you will have to use it correctly and avoid certain small pitfalls.
Insulate yourself from the ground with a mattress or a mat
In addition to your sleeping bag, we advise you to use an inflatable mattress or a floor mat. The latter will insulate you from the ground, especially if you sleep in a cold and damp place. In addition to a hiking tent, it is the guarantee to keep your sleeping bag dry and to spend a restful night.
Choose a sufficiently large hiking tent
Another tip when you go on an adventure, you absolutely must avoid putting your sleeping bag in direct contact with the walls of your hiking tent. Overnight humidity and interior condensation can wet the walls of your tent. If you opt for a tent that is too small, you risk getting wet and thus getting cold.
Use a bivouac oversack for a night under the stars
If you want to spend a successful night under the stars, you will need to protect yourself from the cold but above all from the humidity. The bivouac oversack is the perfect solution. It will provide you with an additional waterproof layer that will protect you from the humidity of the ground but also from that contained in the air. The bivouac sursac takes the same shape as a sarcophagus bag, you just have to slip into it with your sleeping bag to stay dry.
Other bonus accessories: closure system, inside pockets, hood, drawstring
Small bonus, if you want to pair your sleeping bags: be aware that, for certain brands such as Millet, if you buy the same two models (left zip and zip right), it will be possible for you to make only one sleeping bag.
Also be sure to look at the accessories offered on the sleeping bags for additional comfort. Some sleeping bags have interior pockets, which allow you to store your small personal belongings without having to take your arms out of your cocoon, taking the risk of getting cold. You can also find drawstrings at the hood for better heat retention inside the bag.
Ultimately, choosing your sleeping bag is no easy feat, and many factors go into finding the perfect one for your practice. It will be necessary to clearly define your needs beforehand according to the temperature under which you will carry out your adventure but also the humidity that you will face, the type of terrain or the duration of your hike or your trek. From there, you will have to choose a type of filling: natural down or synthetic fibres, then the appropriate comfort temperature. Then will come the criteria of weight, volume and shape, where you will have to define your priorities thanks to the elements presented here. You now know everything you need to know to choose the right sleeping bag. If you still have questions about sleeping bags, do not hesitate to contact our HardGuides who will be happy to answer all your questions on the + 33 (0)1 84 67 14 24 (free call) or via our Customer Care Centre!
Photo Credits : ©Big Agnes - ©Pajak - ©SeaTo Summit