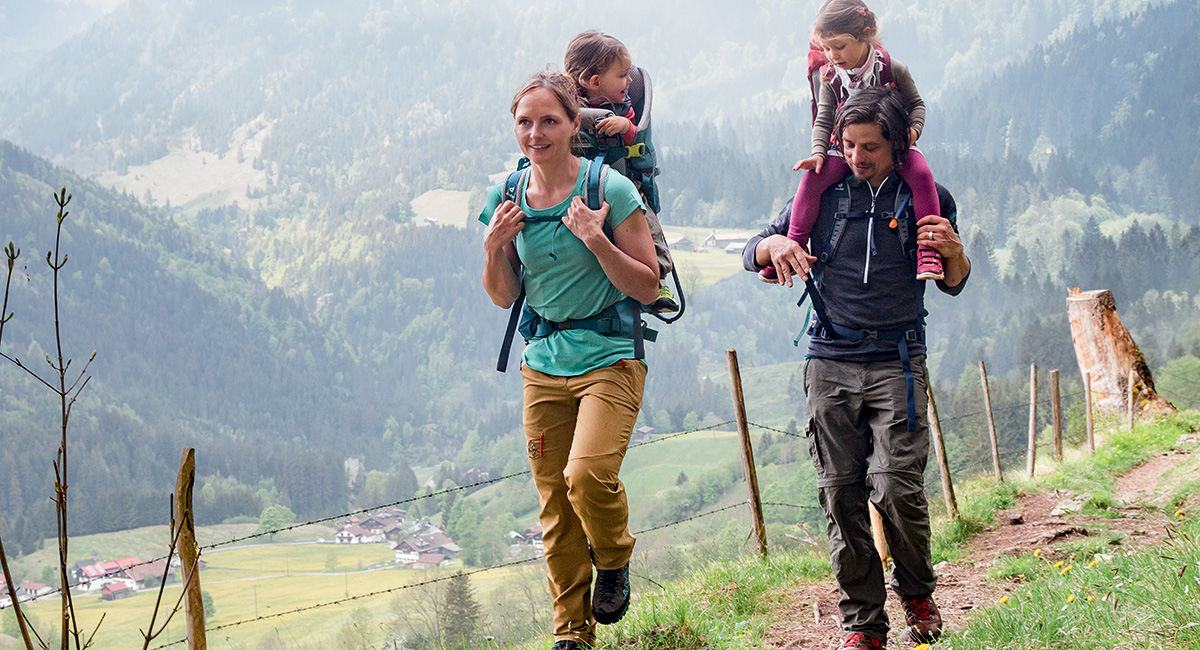 You just had a baby: congratulations! However, do you want to continue hiking, and dream of being able to take your newborn with you on your mountain adventures? Don't worry, we'll help you select a hiking baby carrier that's as comfortable as you want it to be, which allows you to continue to trudge in the middle of nature and introduce your baby to the joys of the mountains and the great outdoors! Selection criteria, best hiking baby carriers..., we help you find the next partner for your walks!
Hiking baby carrier: important features for the child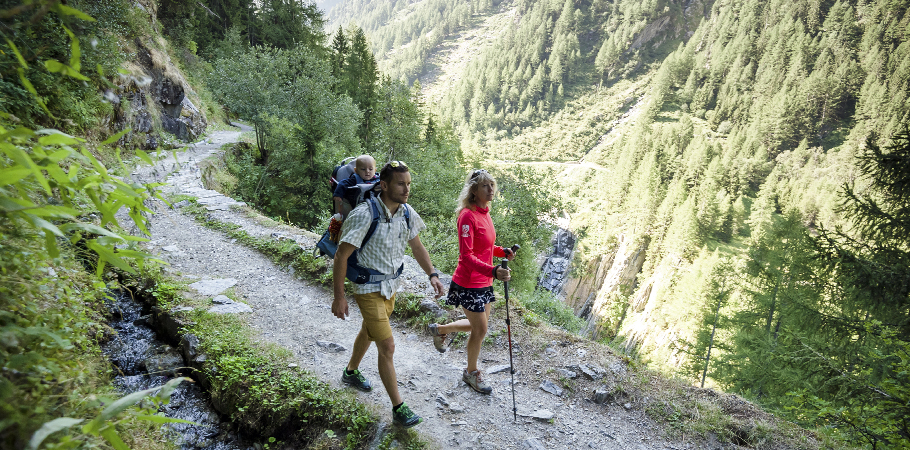 A comfortable hiking baby carrier: ergonomics and breathability
A physiological baby carrier
To prevent your child from arching and keeping his back in a bad position as he grows, it must respect its morphology. Depending on the age, the position of the child varies. For the youngest, the most important thing is that the head is well held. At the level of the legs, the ideal position is that of a frog, the knees apart and reassembled at the level of the navel. Thus, when choosing a hiking baby carrier, check that the position of the baby respects an angle between the bust and the legs which is close to a right angle of 90°. It is especially necessary to avoid that the legs of the child hang in the void. For baby to adopt this posture, a good backpacking baby carrier must have adjustable footrests. The curvature of the back is also fundamental and must be taken into account when choosing a hiking baby carrier. It must be similar to that which the child has naturally: it must therefore be neither too straight nor too curved. If your child seems to be squirming in the seat and showing signs of discomfort, that's never a good sign!
A breathable hiking baby carrier
If you go hiking in summer, if it's hot, you and your toddler will inevitably sweat. Children are particularly sensitive to dehydration, which is both a source of discomfort and danger. It is therefore recommended on the one hand to hydrate it very regularly, especially in hot weather, and to choose a hiking baby carrier with an effective ventilation system. The hiking backpack baby carrier is then particularly well suited since the child will be less stuck to you and the ventilation system of the hiking baby carrier will therefore be more effective. Also, a good hiking baby carrier backpack must therefore be equipped with a ventilation system, allowing the child to sweat less and to evacuate the remaining sweat. So your little one will not have the unpleasant feeling that you surely know when your clothes are full of sweat.


A secure hiking baby carrier
Effective protection against UV and rain
Nothing is more pleasant than a family hike in good weather. But who says good weather also says sun, and too strong or too long exposure to UV rays can quickly become dangerous, especially for the youngest. Your hiking baby carrier must therefore be equipped with a good sun visor providing the shade necessary for the safety of the child. When the weather is less favourable, it is the rain that is to be feared. Like parents, like child... bad weather won't stop your little adventurer! The presence of a waterproof cover on your hiking baby carrier is then essential to continue the getaway. It must be easily and quickly installed and cover your child well. Your back will then be a real refuge for the baby. A real mother turtle with her shell!
A perfect outfit for the baby
While it is important that your child feels comfortable in the hiking baby carrier, he must not be able to move too much either. It would be risky for your baby to manipulate the baby carrier or get into the wrong position, so you need to find the right balance between freedom and safety for the child. For this, we advise you to choose a hiking baby carrier that holds the child well without completely trapping him. Some models notably offer an adjustable lumbar belt according to the child's morphology. In addition, as required by European standards, you must be sure that your child cannot access objects placed in the pockets of the hiking baby carrier. He must also not be able to manipulate the hiking baby carrier and disturb it: the adjustment systems must therefore be inaccessible to the child, otherwise he will start to undo everything and put you in an uncomfortable situation, even dangerous!



A hiking baby carrier adapted to the age of the young hiker
Sling or belly baby carrier after a few months
To start using a backpacking baby carrier, you will have to wait some time after birth. Your toddler should already be able to hold his head up and sit up properly. If this is not yet the case, prefer a sling or belly baby carrier. You will therefore not be able to take long walks with your family for a few months.
The age and weight of the child in a backpack baby carrier
There is no specific age or weight from which it is officially authorized to carry your child in a backpack baby carrier . In reality, it mainly depends on the size and weight of the child. It must be large enough to be held in place and not completely float. In addition, its weight should not be too excessive, otherwise it is the wearer who will start to suffer! Generally, it is necessary to wait until the baby is 9 months old so that it has the minimum standing, weight and size to be worn comfortably and securely. But we repeat it again, it is sometimes better to wait until the child is older so as not to take any risks. Some hiking baby carriers offer a headrest to better support your child, especially when he is sleeping!
Hiking baby carrier: important features for parents
A comfortable hiking baby carrier even in the mountains
An adjustable hiking baby carrier
We are all born equal in rights but with very different morphologies. Our back is therefore more or less tall, more or less wide. For maximum comfort, the hiking baby carrier must be adapted both to your back and to your hips thanks to an adequate lumbar belt. Indeed, a hiking baby carrier that tosses around is a real ordeal. Friction, displacement of the back and poor distribution of the baby's weight will quickly get the best of even the bravest adventurers! If the underwire is well-adjusted to your physiology, you will avoid these inconveniences and optimize your comfort. This stability can also be reinforced by the presence of a stabilizer: a must!
A breathable hiking baby carrier
Just like for your child, sweat can cause discomfort and dehydration. A good hiking baby carrier must therefore limit sweating and allow effective evacuation of it, not only of the child, but also of the parent. Equipment manufacturers have developed efficient and effective ventilation systems. You will therefore easily find a ventilated hiking baby carrier bag to stay cool during your long mountain hikes!


A lightweight backpacking baby carrier
To go the distance
Your baby, although small, light and cute, is a load of a few pounds. If you add to that the weight of the hiking backpack with baby carrier, that of the water and all the equipment essential for your hike, you will very quickly have to support a heavy load. With the child, you will quickly reach 10 to 20 kilos to carry. So that the load is not excessive, you have to find the lightest hiking baby carrier possible.
So as not to traumatize the back
When you carry too heavy a load, you naturally tend to bend over. Such a position is bad for your back. It is even more so over a long distance, such as those travelled during a hike. Thus, the comfort of the back is often reinforced by the presence of cushions for optimal comfort.


A functional hiking backpack baby carrier
The pockets of the hiking baby carrier
Access to the pockets should be simple and quick, not only so that you can hydrate yourself easily , but also so that the one who is not wearing it can hydrate your toddler as regularly as possible. Some hiking baby carriers even offer the possibility of integrating a water bladder. You can thus hydrate yourself without having to remove your baby carrier hiking backpack: a major asset for your hike with baby! The pockets available must also offer you sufficient volume to carry the equipment necessary for your escapades. If you're going away for the day, don't forget the picnic tablecloth!
Installing the child in the hiking baby carrier
So as not to tear your hair out trying to install the child, so as not to relive the pram experience in the car, so as not to lose a minute family outings, you must make sure to choose a hiking baby carrier that facilitates the placement of the child. To remedy this, you can opt for side access or buckles at the shoulders. Keep in mind that this infant hiking seat must be easy to access. Start off on the right foot and without being nervous for your hike with your baby!
Storing the hiking baby carrier
Not always easy to carry such a big backpack! Fortunately, the leading brands of hiking baby carriers have designed foldable frames for you. Your foldable hiking baby carrier will become an easy game to transport !
The Hardloop selection of the best hiking baby carriers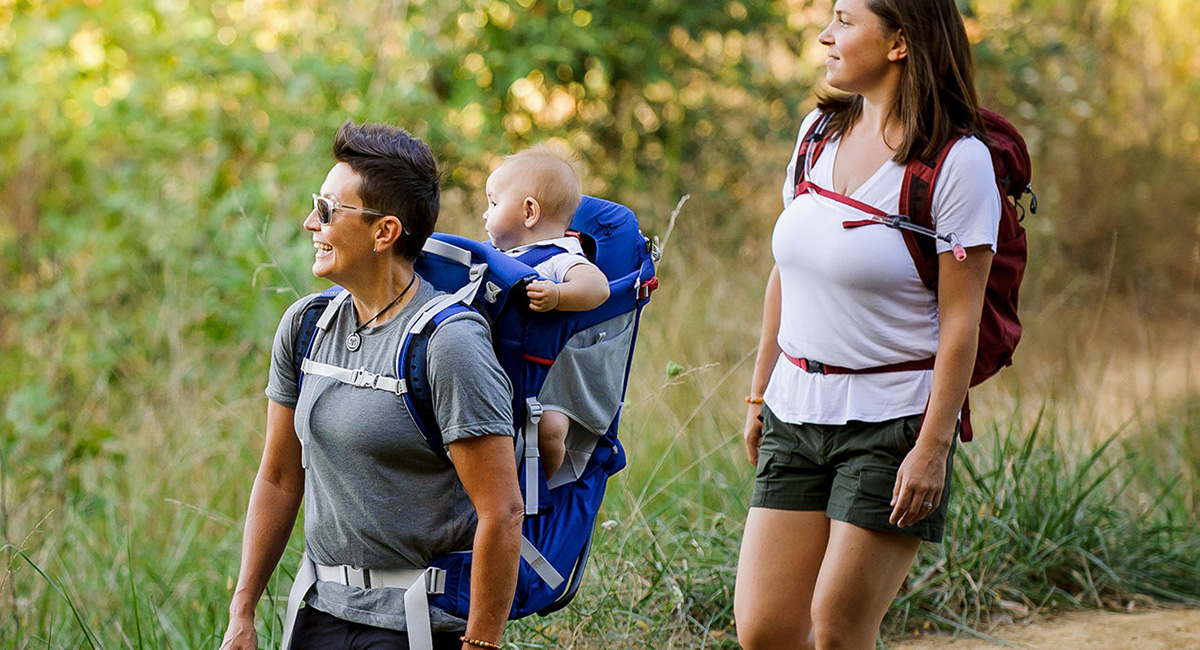 You will have understood, a few key criteria must be taken into account when choosing the right hiking baby carrier. However, faced with the many models on the market, it can be difficult to choose a hiking baby carrier! We have therefore made a comparison of hiking baby carriers, in order to present our top 3 of the best hiking baby carriers. You will obviously find among them the famous Deuter hiking baby carriers, the pretty Osprey hiking baby carriers, not to mention the ingenious Vaude hiking baby carriers.
Deuter

Kid Comfort +PPPS

Vaude

Shuttle Base

Osprey

Poco

Dorsal net system

Tergolight Comfort sytem

Dorsal net system

Adjustable seat with variable




Headrest

Adjustable feet rests

Lateral access




Storage compartment in the bottom

Detachable and washable face bib

Adjustable back length




Adjustable back straps

Adjustable back panel

Hip forward stabilizer




Adjustable seat height

Adjustable floating seat

Bumper sun included




Handles in front and behind

Sun visor and waterproof cover included

Volume: 14 L




Volume: 20 L

Volume: 20 L

Dimensions: 72 x 43 x 34 cm




Dimensions: 72 x 35 x 41 cm

Dimensions: 71 x 38 x 45 cm

Weight : 3,230 g




Weight: 2,560 g

Weight: 3,500 g
Important accessories with your hiking baby carrier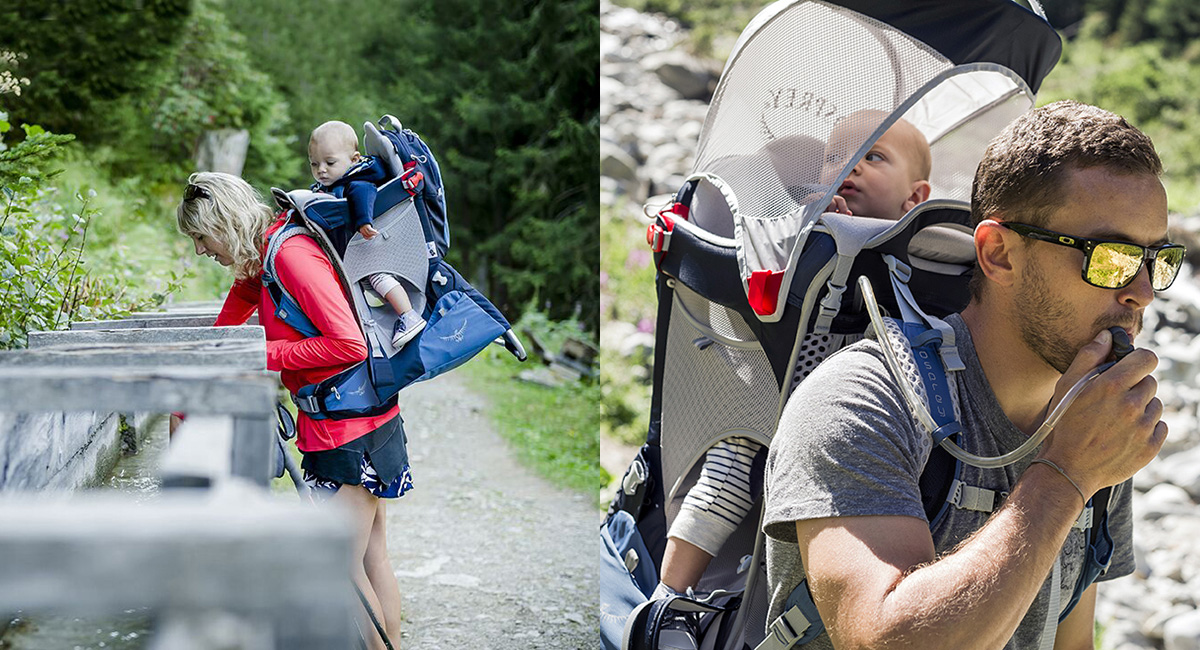 If some models of baby carrier offer foot pegs or sun and rain shades included, this is not always the case. However, as we mentioned above, the footrests are extremely important to prevent your child from having his legs dangling in the air, a position strongly discouraged for the well-being of your toddler.
In addition to the footrest of your hiking baby carrier, a sun visor is essential to protect your child from UV rays, especially during the summer period. More optional, the rain cover, meanwhile, is an excellent accessory for a hiking baby carrier if you go hiking frequently with baby, or if you like long walks, during which the rain can appear in no time.
Some hiking baby carrier roofs offer double protection, against the sun and against the rain, in order to keep your child protected from all weather conditions, in all circumstances! So, if you have to choose a hiking baby carrier without a footrest and/or without a baby carrier roof, don't forget to complete your hiking baby carrier bag with these accessories, which are in fact real essentials.
You are ready to go on an adventure with your toddler now! However, after reading this article, if you have any doubts or questions that persist in order to choose the right hiking baby carrier, do not hesitate to contact our team on + 33 (0) 1 84 67 14 24 (free call) or via our Help Center. We will be happy to explain to you in detail how to choose your hiking baby carrier and thus ensure incredible moments outdoors with your baby!
Photo credits : (1)©Vaude - (2-6)©Osprey