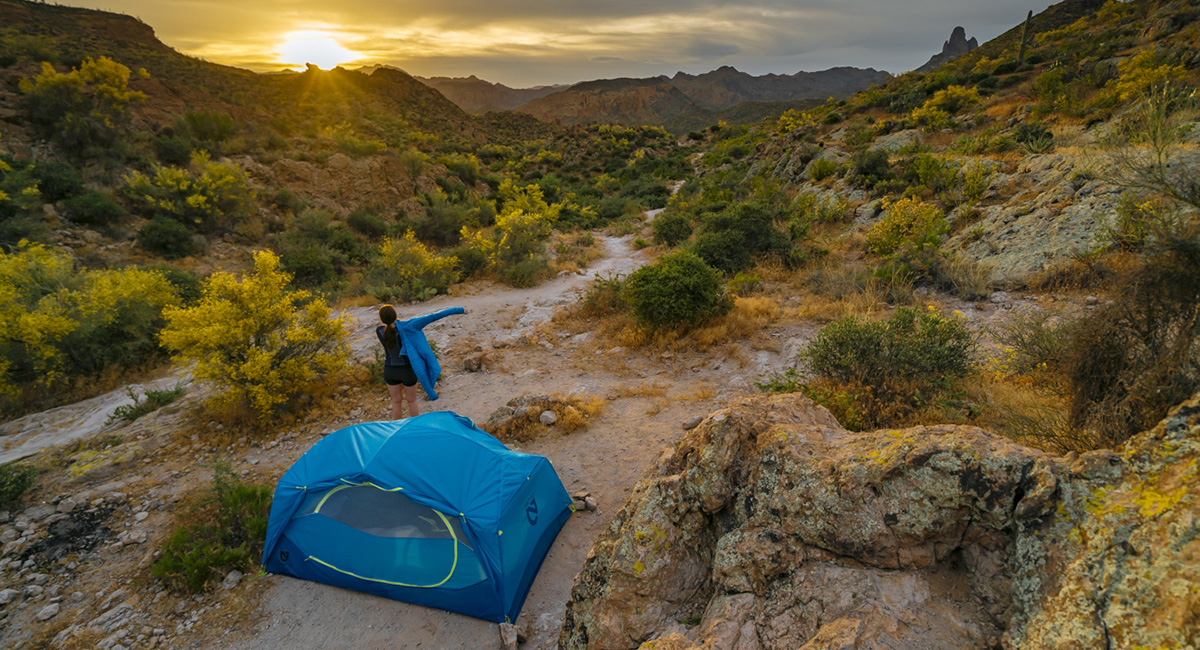 Would you like a breath of fresh air in the middle of nature? The bivouac or wild camping is a great opportunity to enjoy the outdoor and reconnect with yourself.
Fabulous landscapes will be waiting for you to get to your campsite and in the evening, what could be better than enjoying a good meal with friends, the sound of crickets all around you, before admiring the stars and letting yourself be wrapped by this ambient serenity?
We, in any case, can't wait to be able to go into exile in the middle of nature!
If you've never had the opportunity to make a bivouac and you don't know how to prepare for this great adventure, don't panic!
We have concocted a complete equipment checklist for a successful backpacking trip! Tent, sleeping bag, stove, mattress..., make sure you haven't forgotten anything in your backpack before you leave and otherwise have a great experience!
Bivouac or campsite: what's the difference?
Before getting to the heart of the matter of equipment for a backpacking trip, we first wanted to clarify the term bivouac, which can often be confused with camping. What finally distinguishes the bivouac from a week in traditional camping? The main point of differentiation is simply... the weight!
Thus, camping calls for comfort and therefore for more substantial equipment, with heavier equipment. You will then opt for a more spacious tent, more comfortable and bulky inflatable mattresses and why not a real installation with chairs, tables and specific lighting.
The bivouac, meanwhile, is intended to be as light and practical as possible, because it is most often carried out during a hike or a trek. Thus, to access your bivouac site, unlike the campsite which you access by car, you will have to use your legs and your feet! As much to say to you that a light material is essential for the greatest good of your back and your hips!
If the main distinction between camping and bivouac is due to the wilder nature of the latter, let us take the opportunity to recall some basic rules about bivouacs in France. And yes, you can't pitch your tent wherever you want, there are very specific regulations to follow!
Reminder on backpacking regulations in France
Before building your tent wherever you want, know that it is not allowed to bivouac wherever the wind takes you! As such, it is forbidden to set up your tent in the following places:
Forests, woods and parks classified as areas to be preserved or nature reserves
Roads and public paths
Seaside
Less than 200 meters from access to clean water for consumption
Less than 500 meters from a listed historical monument or listed as a heritage
Site on a site classified as a natural heritage protection zone
On private land or roads
In general, before embarking on this adventure, take good time to find out from the town hall of the municipality concerned to find out the regulations in force where you want to pitch your tent! For example, on certain great hiking trails such as the GR20 in Corsica, it is forbidden to do wild camping, your tent must be on a dedicated site near a refuge so as not to disturb the local fauna.
To understand more clearly the main national parks of France and the legislation in force, we have drawn up the list of authorizations and restrictions concerning them:
Bivouac in the Vanoise National Park: authorized in the immediate proximity of certain refuges providing pitches, between 7 p.m. and 8 a.m.
Bivouac in the Cévennes National Park: authorized between 7 p.m. and 9 a.m., but only along marked long-distance hiking routes, 50 meters maximum on either side of the path.
Bivouac in the Pyrenees National Park: authorized between 7 p.m. and 9 a.m. at least one hour's walk from the limits of the national park or from road access.
Bivouac in the Écrins National Park: authorized in a small tent between 7 p.m. and 9 a.m. at least one hour's walk from the limits of the park or a road. If the camp is set up less than an hour's walk away, it must be close to refuges frequented by long-distance hiking routes (the Pré de la Chaumette, near Lake Muzelle in Venosc and the Pré des Selles near from Lake Lauvitel to Bourg d'Oisans).
Bivouac in the Mercantour National Park: authorized between 7 p.m. and 9 a.m. at least one hour's walk from the limits of the park or a road.
Bivouac in the National Park of Guadeloupe: authorized at least one hour's walk from the limits of the park or a road.
Bivouac in the Réunion National Park: authorized in the immediate proximity of a route or a lodge between 6 p.m. and 7 a.m.
Bivouac in the Port-Cros National Park, Calanques National Park and Guyana National Park: prohibited.
In addition, be aware that fires are prohibited in 99% of cases.
With these bivouac regulations in mind, let's get to the heart of the matter: what bivouac gear to choose! Let's start the list with the key piece of your equipment, namely the one that will shelter your nights: the tent!
Backpacking Checklist: Tent

Choose the right hiking tent and its location
Unfolded and built every evening, folded up every morning, your bivouac tent must therefore be both easy to build to save you a weekly headache, but also light, because it will be present on your back throughout your journey. As you will have understood, light bivouac equipment is crucial!
We advise you to opt for a self-supporting tent offering a ground impermeability of at least 1,500 Schmerber, in order to weather storms! Very practical if, once you have climbed, you realize that the chosen location is not suitable!
In addition to your backpacking tent, the location is also decisive for your convenience. So, be sure to choose a flat space, free of stones and other undesirables that could damage it.
Also, take care to place the main opening of your tent sheltered from the wind, and, if possible, your bivouac tent itself sheltered from the wind!
For even more comfort, you can also have additional dry grass on your pitch, before tackling the final step, namely setting up your hiking tent. In this case, one rule must be respected: above all, do not wait until nightfall to install the latter: unpleasant moments and bad surprises guaranteed!
➤ How to choose the right hiking tent?
Backpacking Essentials: tent
Once your tent has been installed, comes the time to slip inside it, in your sleeping bag and for the most fans of comfort, on your hiking mattress.
Backpacking list: Sleeping
Choosing the right sleeping bag
Largely responsible for the quality of your sleep, your sleeping bag must be chosen carefully. Indeed, you will not take the same sleeping bag to make a bivouac in the mountains or a bivouac in hot and humid places.
At different temperatures and geographical locations, different sleeping bags! Thus, one of the first aspects to take into account when choosing your sleeping bag is none other than its comfort temperature.
Note: a comfort temperature between 0°C and 5°C is generally sufficient for your bivouacs and represents the best weight/temperature/compressibility ratio. Be sure to find out about the place you are going to, an error of appreciation on the comfort temperature of your bag and you run the risk of hyperthermia.
The second aspect, just as important, concerns the choice of insulation for your sleeping bag. In other words, should you choose a down sleeping bag, or a synthetic sleeping bag? There is no right answer here. Overall, a down sleeping bag is generally lighter and more compact, and keeps you warmer. However, it is more fragile and sensitive to humidity.
A synthetic sleeping bag, on the other hand, stands out for its hydrophobic and quick-drying qualities. However, the bivouac material has greatly evolved in recent years, thus reducing the defects of each typology. You will find hydrophobic down sleeping bags, or extremely compressible and lightweight synthetic sleeping bags.
It's up to you (and your wallet!) to decide which model to take for your bivouacs!
➤ How to choose the right sleeping bag?
If the sleeping bag is one of the essentials of your bivouac equipment, the hiking mattress can also make all the difference during your nights under the stars.
Choosing the right backpacking sleeping pad
What self-inflating mattress, will you take? If comfort is crucial to you, a self-inflating mattress is, indeed, ideal. The foam mattress, on the other hand, is undeniably less soft, but has the advantage of resistance to all tests, whatever the ground or the weather.
In addition to the comfort aspect, insulation is also important when choosing your hiking mat. As such, your hiking mattress can really make a difference in very low temperatures, by forming a barrier between you and the ground. The insulation of a hiking mattress is expressed in R-value , which breaks down as follows:
R-Value < 1: 1-season mattress - summer only
R-Value 1 to 2: 2-season mattress - mid-spring to mid-autumn
R-Value 2 to 3: 3-season mattress - spring, summer, autumn
R-Value > 3: 4-season mattress - all year round
If insulation plays a crucial role in your comfort, the thickness of your hiking mattress also directly affects the latter. Generally speaking, self-inflating mattresses offer the best thickness-to-weight ratio.
Bivouac equipment: sleeping
Pump (for inflatable mattress)
After a good night in the arms of Morpheus, a second theme of your bivouac equipment comes into play, and not the least: that of food and hydration. Stove, water filter, camping dishes, snacks... let's sift through this essential part of your bivouac equipment.
Backpacking Checklist: Backpacking essentials food
Choosing the right stove
When it comes to a stove, your destination mainly guides your choice. Several selection criteria are taken into account such as, for example, the type of fuel, the environment in which you will find yourself, any transport, the average boiling time or the power of your stove.
For a bivouac in our French mountains between spring and autumn, a simple gas stove will be more than enough for your excursion. Offering good value for money, their cartridge contains a mixture of propane and butane.
Another option available to you is the multi-fuel stove. This type of stove is particularly suitable if you are going to very cold regions. Indeed, this type of stove works with gasoline, which has the virtue, unlike butane, of not freezing when it is very cold. Also, gasoline can be found all over the world, so it's a good option if you have to travel by plane!
➤ The 7 Best Backpacking Stoves


Choosing the right water filter / purifying tablets
If eating is important, staying hydrated is just as important! To ensure that you have drinking water available during your trip, you will need a water purification system and must therefore be part of your list of backpacking gear. Indeed, even the clearest water can be contaminated in various ways.
However, contamination could cause you many problems, or even end your journey prematurely. To avoid this kind of possibility, two solutions exist on the market: water filters and purifying tablets. If water filters generally offer an immediate water treatment solution, purifying tablets generally require 30 minutes to 2 hours of waiting. These can be used alone, or in addition to a water filter, for even more reliability.
Also, if you choose a water filter in your backpacking essentials, know that there are several kinds: water filters with pump, gravity water filters, straws and filter gourds and purifiers by UV.
➤ The 8 Best Backpacking Water Filters
If the manufacturers offer real little gems to hydrate you, the same goes for food! Multifunction knives, freeze-dried meals, energy bars: you are bound to find what you are looking for!
Choosing the right camping cooking material
Since weight and space-saving are essential during a bivouac, camping crockery can quickly become cumbersome in your bivouac equipment. To make your life easier, many brands, such as Sea To Summit, offer, for example, multifunction knives, forks/spoons, or even cutlery and retractable bowls to take with you on all your adventures. There again, it is not the choice which misses!
Backpacking Essentials: meals
Gas cartridge (if gas stove)