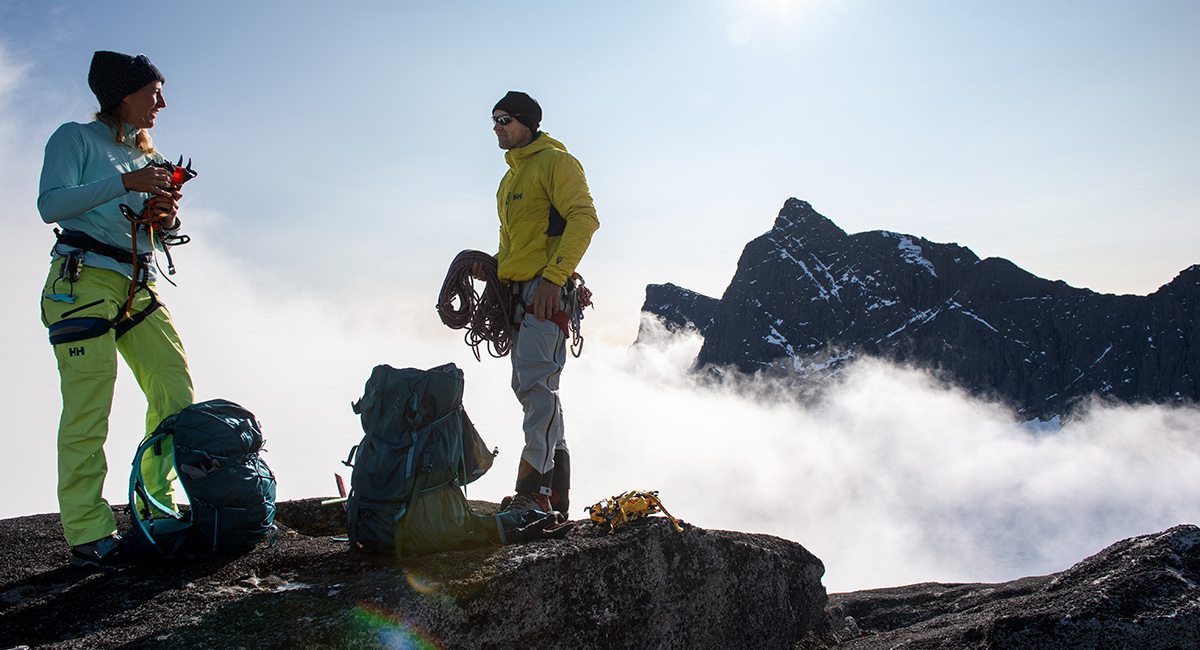 As you know, going on an adventure cannot be improvised. That's why you spent long hours choosing your mountaineering or hiking boots and perhaps even more in choosing your poles. Rest assured, for the choice of your protective jacket, we have decided to write this guide to accompany you in your selection of "Hardshell".
Weather variations are an integral part of outdoor sports activities. It is for this reason that the hardshell has become the protective jacket for nature sports lovers.
Waterproof and breathable, it allows you to stay dry in driving rain, in a deluge of hail, in freezing snow or even to completely cut you off from an icy wind while letting your sweat escape.
A highly technical product, there are dozens of models suitable for all activities and levels of practice: mountaineering, hiking, trekking, climbing, ski touring...
Here are some keys to not making mistakes in choosing your hardshell!
What is a Hardshell?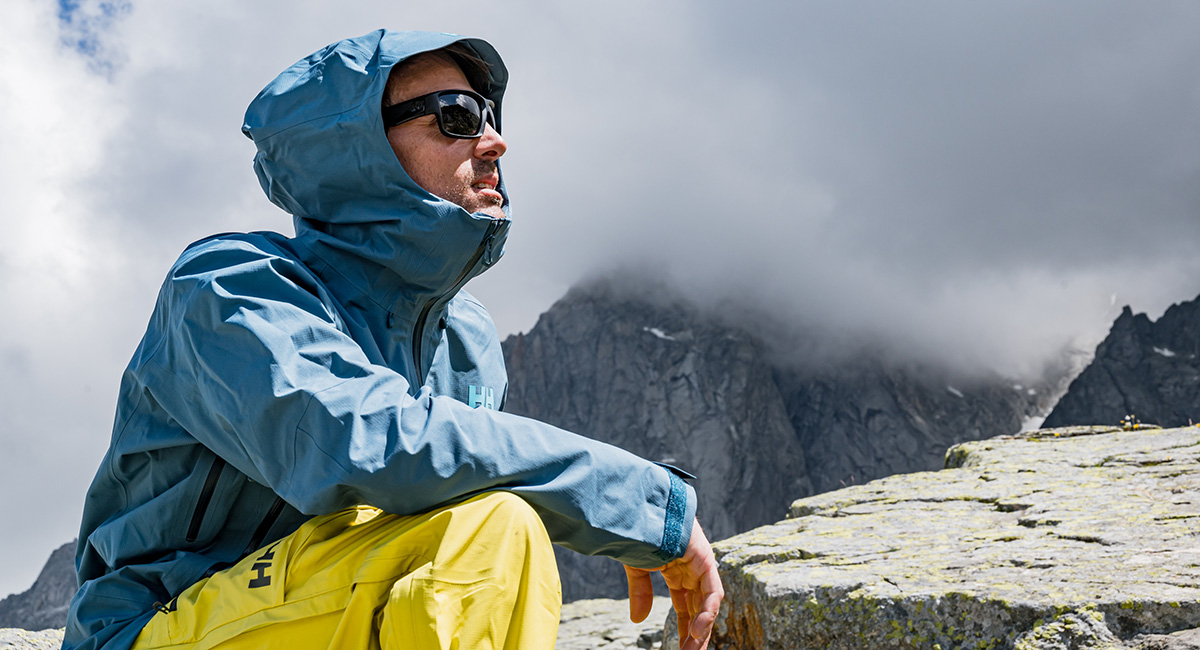 Definition of a hardshell
A hardshell is a waterproof-breathable jacket (waterproof and breathable) designed to protect you from the elements. It is intended to protect you against the elements such as rain, snow, hail and wind. A Hardshell is worn as the last outer layer of protection.
In a hardshell, you become a turtle, comfortably installed inside its shell!
The main element: its waterproof-breathable membrane
The membrane is the basis of the hardshell jacket. It ensures a good balance between impermeability and breathability.
The pores of the membrane are too narrow to allow water to penetrate from the outside, but wide enough to allow freeing of sweat.
The waterproof-breathable membrane is trapped between an outer fabric and an inner protection. The relatively fragile material is thus well protected.
There are several brands of membrane, the best known being Gore-Tex® which is used by most sports equipment manufacturers. They have also developed their own membranes: Helly Tech for Helly Hansen, H2nO for Patagonia, OmniDry for Columbia and HyVent for The North Face. The Gore Tex hardshell, although very efficient, is not necessarily the only choice.
A hardshell protects but does not provide warmth
A hardshell does not provide warmth. It should therefore be worn with thermal protective clothing underneath when the outside temperature requires it: fleece, softshell or down jacket.
However, it is also very pleasant with a breathable first layer underneath when the weather is rainy or windy but not too cold. It will then keep you dry without keeping you too hot.
Forget your old stuffy waterproof jacket, the hardshell breathes and you too!
The main technical characteristics of a hardshell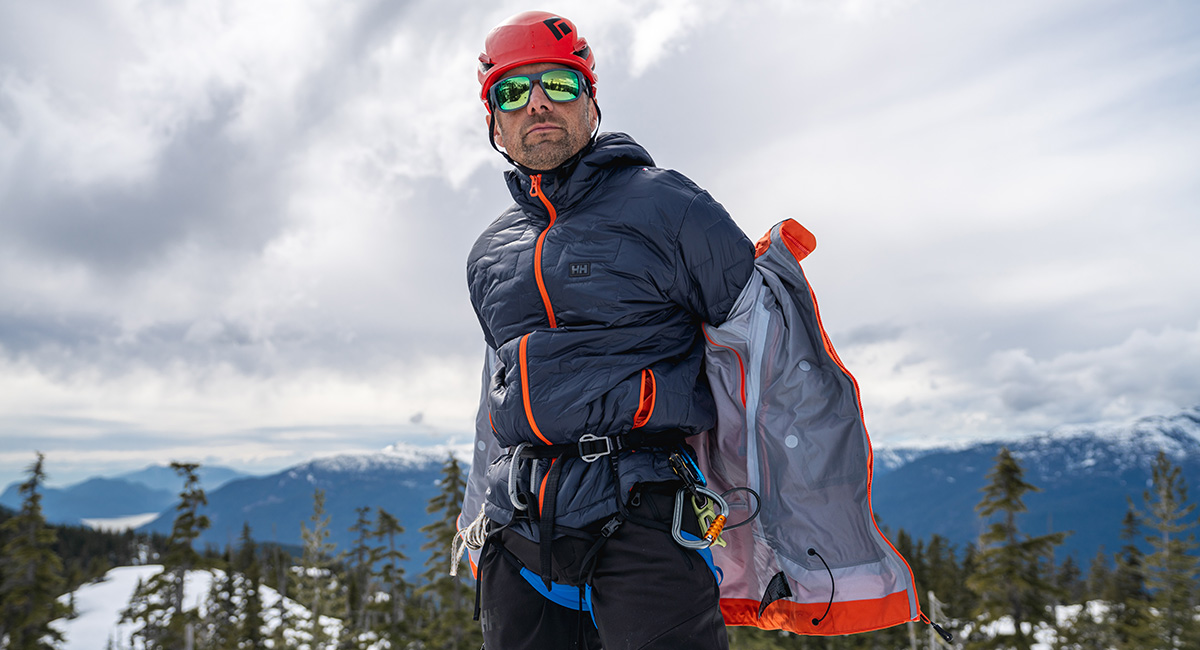 A waterproof protective jacket
The hardshell is by definition waterproof. However, there are different degrees of waterproof ness. The unit for measuring the impermeability of a textile is the Schmerber. We indicate this on the technical data sheets of the products we offer. This is crucial information when choosing your jacket.
This unit was invented by the textile industrialist Charles Edouard Schmerber (1894-1958) to measure the impermeability of a fabric.
To determine the Schmerber level of a fabric, it is placed under a column filled with water and then the height of water necessary for the first drops to cross is measured.
Thus, the greater the depth of water, the more waterproof the fabric will be.
1 Schmerber = 1 water column of 1 mm. A garment that has a value of 5,000 Schmerber will resist 5,000 mm or 5 meters of water. It is considered that at 20,000 Schmerber, a product is perfectly waterproof.
10,000 Schmerber will be more than enough for your hikes in the middle of the mountains or on coastal paths. This is also the level required in the compulsory equipment of many trails.
The 20,000 Schmerber mark will be ideal for your adventures in the high mountains where ice, snow and squalls meet.
A breathable protective jacket
Breathability is the ability of a garment to let sweat escape. As a general rule, the more waterproof a jacket is, the more its breathability decreases. It is therefore necessary to find the right compromise, adapted to your use, between water resistance and freeing of sweat.
There are two units of measurement: the MVTR and the RET.
The MVTR (Moisture Vapor Transmission Rate) - or water vapor transfer rate - corresponds to the quantity of water (measured in grams) which evaporates from one m² of fabric in 24 hours. The higher this rate, the more breathable a textile is. From 10,000 it starts to breathe well, at 30,000 your jacket will be extremely breathable. This unit is used by many European brands: Millet, Mammut, Ternua, Eider…
The RET (Resistance Evaporative Transfer), rather used by American brands including Gore-Tex®, measures the resistance that the textile opposes to evacuation humidity. The lower this index, the more breathable the garment. From 12, you benefit from good breathability, below 6 your jacket is ultra-breathable, while at 3 or less, you are faced with the best in terms of breathability.
You can now accelerate without fear of humidity!
A protective jacket built in several layers






3 layers membrane
-
Membrane completely attached to the interior and exterior protective fabrics. Used for resistant and performing jackets.


2 layers membrane

-

Membrane attached to the outer layer and protected by a floating lining. Used for comfortable and functional jackets.

2,5 layers membrane

-

Membrane attached to the outer layer and covered by a film filler on the inside. Used for lightweight, packable jackets.
2-layer hardshell: The oldest 2-layer construction. The membrane and the outer fabric are integral, they form the two layers of the jacket which has a floating inner lining.
This type of jacket is very fluid and generally more accessorized; it often has many more pockets. The budget for a 2-layer hardshell is lower than for the other 2 types of construction, given its less complex construction and its durability.
Perfect for hiking or treks lasting a few days, its weight is slightly higher than the other two models made for more technical and committed physical activities.
Hardshell 3-layer : This is the best hardshell. It has the most technical and robust construction. The membrane is trapped between the outer fabric and the inner lining.
The 3 layers create only one layer since the inner lining adheres completely to the membrane, which is thus perfectly sheltered and protected.
The cuts are closer to the body and ergonomic so as not to hinder movement and this construction undeniably allows you to take a step forward in terms of protection.
More robust and resistant, the 3 layers are also in most cases lighter than the 2 layers but slightly less comfortable because they do not make any concessions on the level of protection. These are technical and high-performance jackets intended for mountaineering, ice climbing or even trekking.
Hardshell 2.5 layers: Construction 2.5 layers saves an inner liner inside the jacket, it is replaced by a thin protective film on the membrane. We therefore have an addition of two layers (outer fabric and bonded membrane) and a half layer (the thin inner protection).
The 2.5 layer is extremely light and compressible. It is, however, more fragile. Lightweight and breathable, 2.5-layer jackets are particularly suitable for trail-running, mountain biking, active hiking or Nordic walking.
Why invest in a hardshell?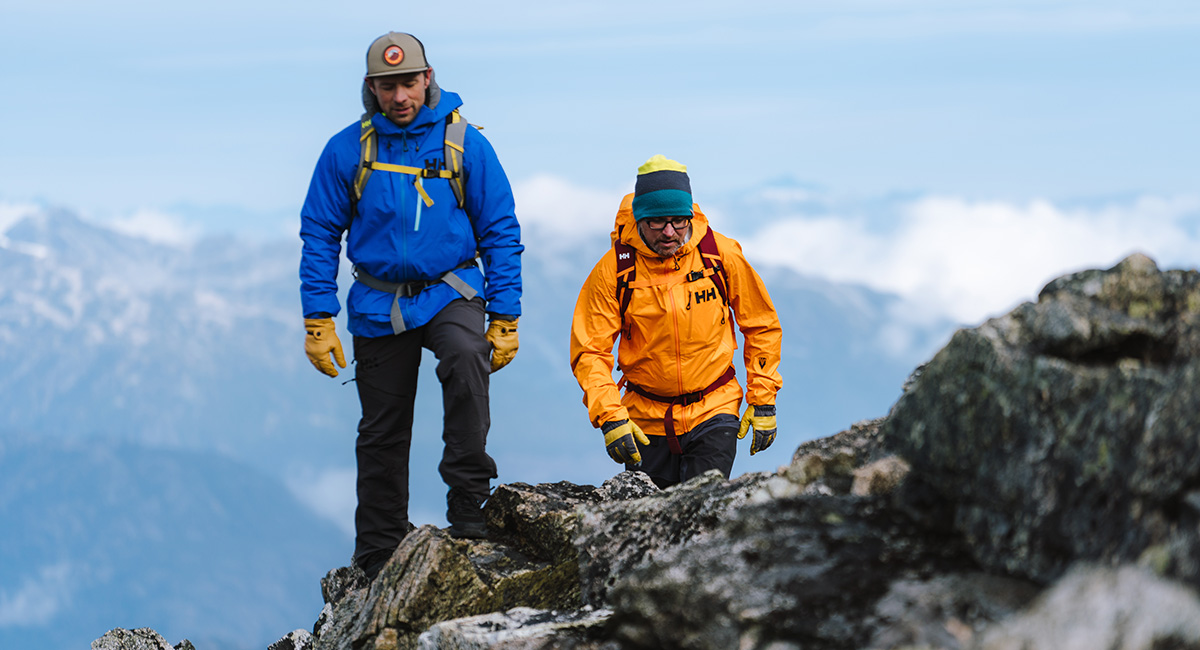 The main advantages of a waterproof-breathable jacket
Perfect as a three-layer protection system
A hardshell jacket in addition to two very good first and second layers is the best.
As a reminder, the 3-layer protection system is defined by: a technical underwear that wicks away moisture (1st layer) - a fleece or second thermal layer that retains heat (2nd layer) - a hardshell that protects against bad weather (3rd layer).
You are thus perfectly protected from the outside elements and stay warm and dry whatever the weather conditions you have to face: rain, wind, snow...
Note: the hardshell can be worn directly on any relatively light technical layer. This outfit is particularly conducive to wet outings in cool weather.
Incomparable protection and comfort
The protection provided by a hardshell is optimal. It varies according to the models and the number of layers, but a jacket adapted to your use will give you the protection you need in your activities. In the past, they were not all comfortable, especially for the 3-layer models which provide great protection and are therefore more "rigid". However, equipment manufacturers have made enormous progress and now offer jackets which, from the second outing, are very pleasant to wear and much more flexible than their big sisters of a few years ago.
Which hardshell to choose?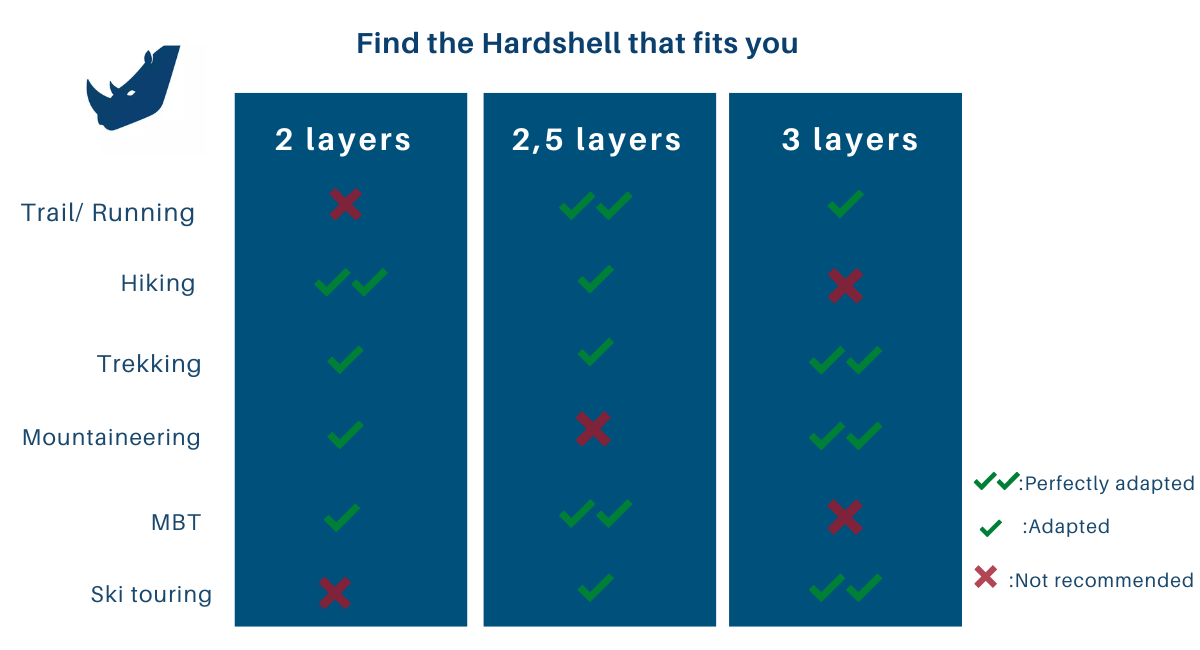 After choosing the type of hardshell (2, 3 or 2.5 layers) that suits your practice, it is important to take a look at the design details of the latter to finally choose a brand and a model that meets all your selection criteria:
The hood: Depending on your objectives, make sure that the hood is large enough to accommodate any protection (helmet type) or if it is adjustable with a drawstring . Having a hood adapted to your head and its accessories (like a headlamp) is an important element to be well protected.
Reinforcements in specific areas: Some models have reinforcements, particularly on the shoulders, to protect the jacket and yourself from abrasion linked to the straps. Stretch inserts at strategic points, such as under the arms, also allow you to gain mobility.
Wrist and jacket bottom tightening: Velcro or elastic tightening or drawstring allow you to adjust the sleeves according to your wrist size and block the air passages through the bottom of your jacket, significant elements for stay out of cool drafts.
The location of the pockets: For mountaineering, some jackets have raised pockets to prevent them from being inaccessible once your harness is on.
The location of the pockets: For mountaineering, some jackets have raised pockets to prevent them from being inaccessible once your harness is on.
Hardshell by sport
➤ Mountaineering Hardshell Jackets
➤ Waterproof Trail Running Jackets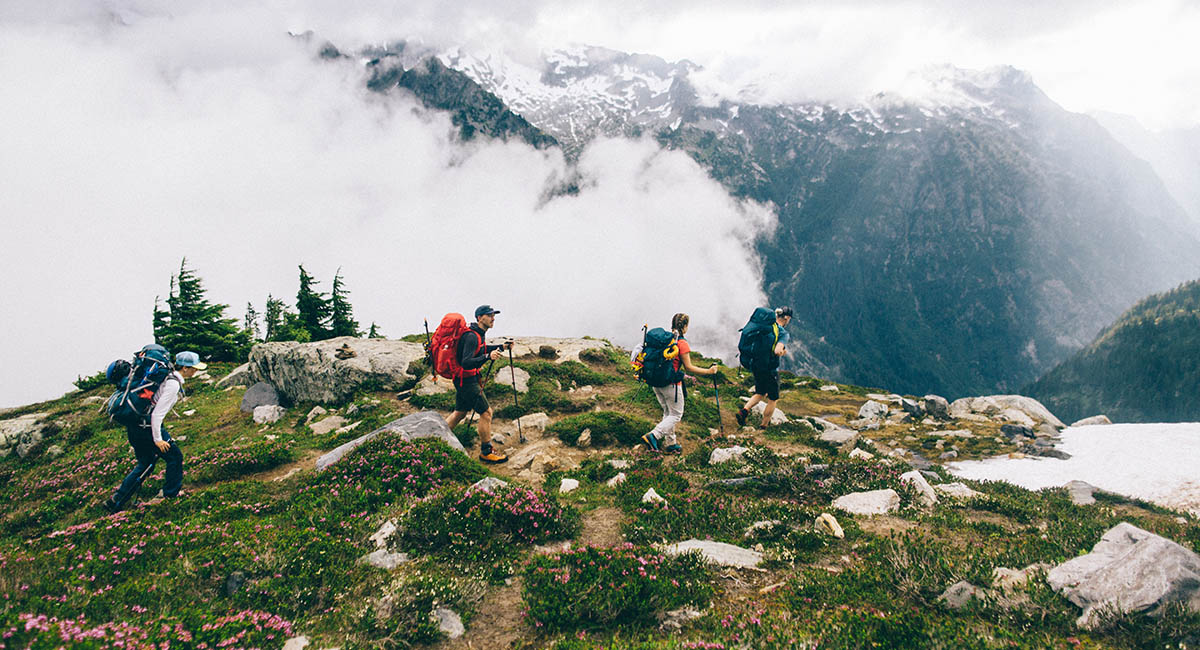 Put on your hardshell, nature is waiting for you!
You need more information to choose the hardshell jacket that suits you, do not hesitate to contact our HardGuides who will be happy to guide you through our Help Center or on the phone on the +33 (0) 1 84 67 14 24 (free call).
Crédits photos : ©Helly Hansen